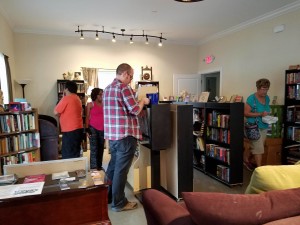 Tiffany Razzano, founder of the Wordier Than Thou state-wide reading series, welcomes your Scribbler, Darlyn Finch Kuhn, and Orlando author Sara Nicolas from 4-6 p.m. on Saturday, August 13th, for the grand opening of the Wordier Than Thou Bookstore, 5741 75th Ave. N., Pinellas Park, FL 33781. Nicolas is the author of Dragons Are People, Too. Kuhn will sign copies of her novel, Sewing Holes.
The grand opening celebration will kick-off at 7 p.m. on Friday, August 12th, with a book launch for "Blister," by Jeff Strand.
Award-winning author Lisa Lanser Rose will lead a writing workshop entitled "Suspense and the Art of Nonfiction," on Saturday, August 13th from 10 a.m. – noon.
Details of all weekend events can be found at http://www.wordierthanthou.com.