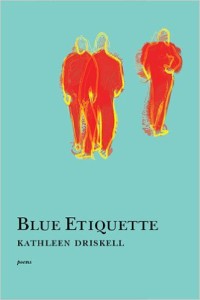 Blue Hen Press is pleased to announce the upcoming release of Kathleen's new poetry collection, Blue Etiquette!
When Kathleen Driskell pulled an old edition of Emily Post's Etiquette from the used bookstore shelf and blew dust off the blue linen cover, she instantly found herself and her family within those pages—not as the Worldlys, Oldlineages, or the Gildings (archetypes Post created to demonstrate how to properly manage a grand house full of servants), but as the housemaids, cooks, and useful men working for those very rich. The noted poet—whose collection Seed Across Snow was twice listed as a national bestseller by the Poetry Foundation—explores class, the workplace, and those tense interactions between the haves and the have nots in her new collection. As America watches its middle-class quickly decline, Blue Etiquette rings with relevance.
Blue Etiquette is available for pre-ordering from Red Hen through this exclusive link. For any orders we receive through this link by September 30, 2016, we will offer free shipping. Book orders will be shipped out within two weeks of publication.
Books are also available to order on Barnes & Noble, Amazon, and at your local bookseller.