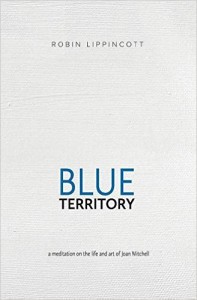 There are so many things I want to study and understand in this one, short life. I have mostly studied writing, but art, music, and dance have a hold on my imagination, as well, so I love to read about such things, even as I realize I'll never have the time or passion to pursue them.
Abstract art is such an area. Sure, I've heard of the greats, and viewed some of their work in some of the great galleries around the world. But I confess, I've never been taken with it much, knowing there was depth there, and tremendous skill required, but lazily deciding to emphasize more accessible work in the limited time I had to focus on art and artists.
In reading Blue Territory, I found in Robin Lippincott what I most needed, to dip my toe into the water: a talented writer whose passion for Mitchell's work and dedication to studying it and bringing it to the world through the medium of words allowed me to see who she was and what she accomplished with her work.
I deliberately avoided viewing images of the artist's work while I read Lippincott's book, in the same way he says he avoided using those images in his publication, to allow the words to paint the story in the mind of his readers. Only after I finished his pages did I finally see her paintings on the screen, with a depth of understanding and feeling I surely would have lacked, viewing them cold.