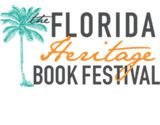 Brad Kuhn and I will join other writers sharing our experience and knowledge at the Florida Heritage Book Festival at beautiful Flager College in St. Augustine.
Thursday, September 15 – Friday, September 16
Join over one hundred writers from all over the southeast to learn, be inspired, and network with other writers. This year's Writers Conference will take place at Flagler College and include critique workshops, and multiple sessions on the craft and business of writing. The conference faculty consists of true professionals, some of whom, like John Dufresne, are among our featured authors. Check out the conference schedule.
Space is limited, secure your spot today.
Saturday, September 17
A day of free author presentations to delight book lovers and inspire authors. This year's mix of bestselling authors from a range of genres will force tough decisions about which presentations to attend. Check out the festival schedule.
Need new books? Over 70 writers, publishers and book stores will be available at Saturday's Festival Marketplace for hourly drawings, signings and readings. See (or join) our vendors.