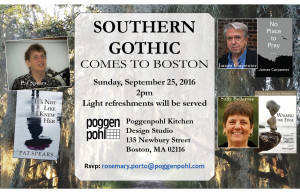 Scribblers in New England, take note! James Carpenter, Pat Spears and Sally Bellarose will read from three fantastic new works out of Twisted Road Publications:
No Place to Pray, It's Not Like I Knew Her, and Walking the Edge at 2 p.m. on Sunday, September 25th at Poggenpohl Kitchen Design Studio in Boston.
Light refreshments will be served, along with a heapin' helpin' of good stories. Y'all come.