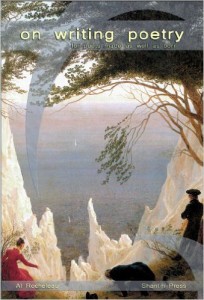 Orlando poet Al Rocheleau, author of On Writing Poetry and founder of the Twelve Chairs Advanced Poetry Course, recently completed a one-year journal submission project in advance of the release of his Falling River: Collected Poems 1976-2016. Over the course of one year (August 21015-August 2106), Al placed 53 poems in 30 journals, including such nationally recognized magazines as Confrontation (which has published four Nobel prize winners and four Pulitzer prize winners), Evansville Review (with Vivian Shipley), Slant (with Elton Glaser), Van Gogh's Ear (with A.D. Winans), Potomac Review, Studio One, Plainsongs, and Adirondack Review. During the project, Al also placed translations of Rimbaud in Illuminations (College of Charleston), and in England, in The Journal. He published one of his own poems (which he translated into French) in the Paris-based Poésie Française. Among the thirty print and electronic journals involved in the project were large foundation-endowed magazines, college journals, and also a few small, privately produced journals of long standing. The total included 18 print journals and 12 electronic journals including five placements in England and three in France.
During the project, Al submitted several hundred unpublished poems to a very large number of poetry markets– most of which are well known and appear annually in Poet's Market. Among the self-imposed provisos for Al's project was that submissions and acceptances would be completed over exactly one year and involve no simultaneous submissions. In other words, an unpublished poem was sent to one journal, and not re-sent to any other single journal until that poem was rejected by the original market to which it was sent– even if that wait took most of the year. If accepted, those poems were then retired.
Packets of what usually contained five poems were mailed or submitted electronically to journals in the United States, Canada, England, and France. As he had done many times over the course of forty years, Al created what he calls a "submission machine" to account for the submissions and allow for an expeditious re-sending of poems to a new market when a poem was not unaccepted. According to Al, the "automatic" nature of the well-oiled process not only keeps the poems out there with a constant chance for acceptance, but also negates the personal sting of rejection and the subsequent inertia it may cause.
Al's has advice for poets who want to experience the thrill of being placed in fine journals run by professional editors, and alongside professional poets. Those who want their work to be saved and savored by educated readers, and gain the permanent satisfaction of publishing in print or online, as well retain credits for their own collections later, should listen:
"While not all poets may have as large a portfolio of unpublished poems as I had to employ in a submission project such as this, the machine will still work proportionally for any poet who has the following:
1) Very good, finished work.
2) Work that is well-targeted based on matching the ambition level of the poem to the requirements of a particular market.
3) An ability to run the machine continuously over a long period of time.
4) A making of one success into more successes by citing new credits in the submission cover letter.
5) Organization, thick skin, perseverance, and patience.
6) Ownership and use of an up-to-date Poet's Market, and the guts to begin, and carry through."
On the process of submitting to journals, Al offers this analogy:
"You walk into a bright casino and fill your pocket (or two pockets) with chips. These are your poems. They are of different color for different denominations, based on their potential quality, intended for different destinations. You target the slot machines or gaming tables based on the amount of possible return there versus the denomination of the chips. You play sensibly; yes, you take an occasional extra chance. If you've planned well, the odds will eventually pay off. Big or small, you will win. And if you don't realize your dreams that day, guess what– as you go out the door, you get all your chips back, and can play again."
During the submission project, Al painstakingly documented everything he did– every submission, rejection, every re-submission, every date. In future seminars, whether held privately or under the auspices of the Florida State Poets Association, for which Al is the incoming Vice President, he will teach working poets all the ins and outs of the making and maintenance of the submission machine. So stay tuned.
Al's manual for poets, On Writing Poetry, is available through Shantih Press. The 832-page Falling River: Collected Poems 1976-2016 will be available at the end of the year, also through Shantih Press. The 180-hour Twelve Chairs Advanced Poetry Course will graduate its second class this October, and the program recently began its fourth live student group. If you have any questions, you may contact Al at ARRO40@aol.com.