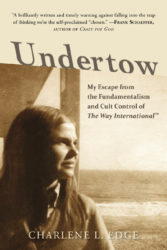 Coming fall 2016 – Charlene Edge's memoir about seventeen years in a cult.
Undertow: My Escape from the Fundamentalism and Cult Control of The Way International™ is Charlene Edge's riveting memoir about the power of words to seduce, betray, and, in her case, eventually save. After a personal tragedy left her bereft, teenaged Charlene turned away from faith and family and fell into the clutches of The Way International, a small sect led by the charismatic Victor Paul Wierwille. The Way—which eventually became one of the largest cults in America—held Charlene in its grip for seventeen years. Believing that God led her to Wierwille, she underwent his intense two-year training program, The Way Corps, designed to produce loyal leaders. When Wierwille warned of a possible government attack, she prepared to live off the grid. She ignored signs of paranoia as Wierwille turned dissenters over to the Devil, abused alcohol, and surrounded himself with armed bodyguards. She married a fellow Way Corps graduate and together they served across the United States as Way leaders, funneling money into Wierwille's bursting coffers and shunning anyone who criticized him. As obedient Way Corps grads, they raised their child to believe the doctrines of Wierwille, the cult's designated "father in the Word." Eventually Charlene was promoted to the inner circle of biblical researchers, where she discovered devastating secrets: Wierwille deliberately twisted texts of Scripture to serve his personal agenda, shamelessly plagiarized the work of others, and misrepresented the purpose of his organization. Worst of all, after Wierwille died in 1985, shocking reports surfaced of his secret sex ring. Amidst chaos at The Way's Ohio-based headquarters, Charlene knew she had to escape—for her own survival and her child's.
Reading like a novel, Undertow is not only a brilliant cautionary tale about misplaced faith but also an exposé of the hazards of fundamentalism and the destructive nature of cults. Through her personal story, Charlene Edge shows how easily a vulnerable person can be conned into following an authoritarian leader and how difficult it can be to find a way out.
Subscribe here for news on how to get your signed copy before Christmas.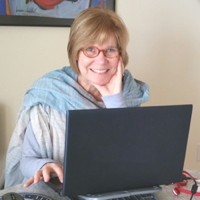 About the author
After a successful career as a technical writer and proposal specialist for a high-profile software company, Charlene Edge took wing, leaving the industry to devote herself fulltime to writing. Her poetry has been published by Wordsmith (The Tampa Writers Alliance), the Rollins Book of Verse 1885-2010, heard on public radio, and, along with her fiction, has appeared in The Florida Writer magazine. Essays focused on her fundamentalist cult experience have been published in Shifting Gears: Small Startling Moments In and Out of the Classroom and in ICSA Today, magazine of the International Cultic Studies Association, of which she is a member. She is a sought-after guest speaker for college-level religious studies, philosophy, and psychology classes. Charlene is a graduate of Rollins College, and a member of The Florida Writers Association and The Authors Guild, Inc. She lives in Florida with her husband, Dr. Hoyt L. Edge, professor emeritus in philosophy of Rollins College. They travel the world, and Charlene blogs about their adventures, as well as fundamentalism, cults, the writing life, and other musings on her website http://charleneedge.com.