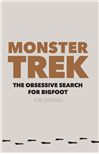 Full disclosure: author Joe Gisondi and I once worked together in the sports department of the Orlando Sentinel. I like the guy, so I was predisposed to like his book. He has been a serious journalist for over twenty years, and he is now a professor of journalism at Eastern Illinois University, so you may be wondering, as I did, why in the world he would pick such an esoteric topic on which to write a book.
The answer to the question is at once simple and complex.
The simple answer is: he just wants to know. Traveling with Bigfoot hunters as diverse as the well-known Moneymaker, Meldrum, and Barackman, as well as with unknown teachers, engineers, and bankers, Gisondi treks into remote forests, mountains, swamps, and parks, as well as a backyard or two, seeking that elusive prize: a face-to-face encounter with a mythical creature that has been reported as sighted in every state except Hawaii.
The more complex answer is that Gisondi is seeking, through contact with people who truly believe in something both unexplainable and larger than themselves, a faith in the mystical that has eluded him since he was a child. It's a privilege and pleasure to accompany him, through the pages of his book, on his quixotic quest.