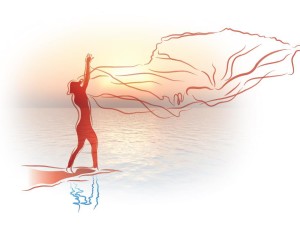 When Tupelo Honey Lee opens the King James version of the Holy Bible to Matthew 7:7, she finds, in the beautiful red letters that tells her they are the words of Jesus, this promise: "Ask, and it shall be given you; seek, and ye shall find; knock, and it shall be opened unto you."
On the back of a prayer card at Our Lady of the Sea, Honey reads this quote from Saint Joan of Arc: "Work, and God will work also."
Although as Honey grows up through the pages of Sewing Holes, she learns that God is not an ATM, and Jesus doesn't run a fast-food restaurant where you place an order at the counter and get handed a bag full of wishes moments later, she does find, by the end of the book, that believing in something bigger than yourself matters; that hope outlives despair; and that the love we give away to others is the only miracle we ever really need.
If you know me at all, you know that the publication of my novel was a dream that came true after years of struggle, and with the involvement of just the right people at just the right time. Now I've been given a new dream, and have been quietly working behind the scenes to learn the necessary skills and meet the right people to make the adaptation of Honey's story into a feature film a reality.
The first draft of the screenplay is complete. I know it has flaws, and will workshop it with an amazing screenwriter/professor in mid-November. Rewrites come after that, and then the search for the perfect producer and director begins in earnest, although I already have my heart set on a couple of successful indie-filmmakers right here in Orlando whose work I truly admire.
Come take this journey with me – one step at a time – as I ask, seek, knock – and work.
One day, in the not-too-distant future, we'll all sit together in a local theater as the lights go down, the music swells, and Honey's voice-over begins: "Memories are colored by perception, and the truth is pocked with holes. This is the way, after almost half a century, I've stitched those holes together…."