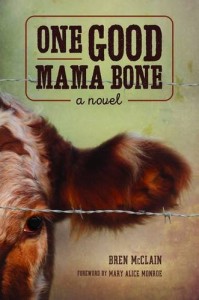 At least a decade ago, I sat in the 16th floor ballroom of the historic Brown Hotel in Louisville, Kentucky, and listened to a group of fellow Spalding MFA students read from their works in progress. Many were passable; a few were darn good.  And then Bren McClain stood up and read what would become the first chapter of One Good Mama Bone. About three sentences in, I leaned forward in my chair, transfixed. Soon, I forgot to breathe. When McClain finished her piece, there was the kind of hush that fills a room when no one wants the reading to be over. Then the applause began, and we leapt to our feet.
For ten years, I've been waiting to hear what happens next. And this novel does not disappoint. If you are a mother; if you have or had a mother; heck, if you love Mother Nature, buy this book. (Available for preorder now.) I promise you'll never forget Sarah Creamer and her son, nor Mama Red and hers.
Published by Pat Conroy's Story River Books imprint at the University of South Caroline Press, with a forward by Mary Alice Monroe, One Good Mama Bone is Southern Gothic fiction at its finest.