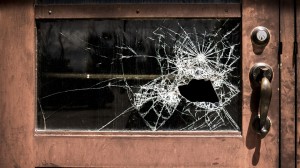 What:               The Holocaust Memorial Resource and Education Center in Maitland invites the community to its annual commemoration of Kristallnacht, "the Night of Broken Glass". The event will be Sunday, November 6 with performances at 2 and 4 PM, and will be held in the exhibition hall of the Holocaust Center, 851 N. Maitland Avenue.
Info:                
The program this year features the premiere of a new play, Two Regimes, which is drawn entirely from the words of Teodora Verbitskya, a woman who chronicled her experiences in Stalinist USSR. Teodora's words are coupled with a striking backdrop – memory paintings of her daughter, Nadia Werbitzky, who later became an artist. Created decades apart, these works reunite to tell the story of these women who became witnesses to war – caught between Hitler and Stalin.
Kristallnacht commemorates the night of November 9 and 10, 1938, when Nazi soldiers, police officers and citizens began a pogrom of looting, burning, arrests and death. According to Pam Kancher, Executive Director of the Holocaust Center, the importance of Kristallnacht is not just the destruction of property and loss of lives. It was, she said, the time "when the whole world could see what was happening, and chose to turn away."
"We can never forget the toll on humanity caused by hatred and indifference," she said. "It is our obligation to remember, to educate, and to stand up for the targets of intolerance."
Who:                The roles of Teodora and Dimitri Verbitskya will be played by by Christy Duffer and Ben Ludwig with narration by Mark Davids and Jackie Levine.
When:              Sunday, Nov. 6, 2016
Performances at 2 and 4 pm
Media with Pam Kancher, Executive Director of the Holocaust Center, are available beginning at 1:00 p.m.
Where: Holocaust Memorial Resource & Education Center of Florida
851 N. Maitland Ave.
Maitland, FL  32751
For More Info  
Contact:           Terrance Hunter, thunter@holocaustedu.org
Program Coordinator, Holocaust Memorial Resource & Education Center
Office: (407) 628-0555 x225
Cell: (321) 301-2493