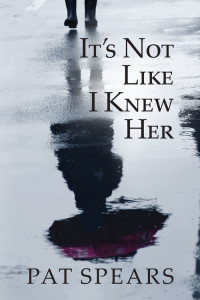 Tuesday, November 29th
7 – 9 PM
Bookmark It
2906 Corrine Drive, Orlando, FL 32803
Local author Sarah N. Fisk will begin hosting an LGBT book club. The first selection for discussion is Pat Spears' It's Not Like I Knew Her. Meet the author and pick up a copy of the book Tuesday, November 29.
About the book: Jodie Taylor's childhood is filled with loss, abuse, chronic disappointment, and an instinctive awareness that her desire for women will forever make her an outcast. At 18, she flees her home town in rural north Florida and arrives in racially charged Selma, Alabama in 1956 as a penniless fugitive. She finds work in a cafe that is frequented by racist nightriders and, with an eye on the door, she hunkers down behind a wall of lies and half-truths. Her self- imposed silence with the family she left behind is broken when a crisis sets Jodie on a backward journey. As she struggles to reconcile her past with the present, she begins the inward journey she must take to truly find her home."
About the author: Pat Spears is the author of two novels; DREAM CHASER (Twisted Road Publications, 2014) and IT'S NOT LIKE I KNEW HER (Twisted Road Publications, 2016). Her short stories have appeared in numerous journals, including the North American Review, Appalachian Heritage, Seven Hills Review, and anthologies titled Law and Disorder from Main Street Rag, Bridges and Borders from Jane's Stories Press and Saints and Sinners: New Fiction from the Festival, 2012. Her short story Stranger At My Door received honorable mention in the 2013 Lorian Hemingway Short Story competition and Whelping was a finalist for the Rash Award and appears in the 2014 issue of Broad River Review. She is a sixth generation Floridian and lives in Tallahassee, Florida.