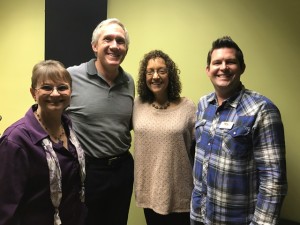 Brad and Darlyn Kuhn had the extreme pleasure of being interviewed about the Central Florida arts scene by Mary Thompson Hunt and Joshua Vickery for From the Heart, their arts-themed show on Clear Channel's iHeart Radio. The segment will air on Sunday night, January 22nd at 11 p.m. on Magic 107.7 FM.  Here's a link to stream the station.  Afterward, we'll post the link to the interview itself, for those who'll already be snoozing at that time. But we had such fun; it's definitely worth staying up late to listen.
You might be surprised how many of the components of Orlando's cultural mileui we were able to mention during the 3-part, one-hour show, including a shout-out to one of Orlando's most exciting visual artists, Laura Riekki.
And speaking of exciting artists, have you seen the work of Mary's husband, Jason Hunt? Stunning!