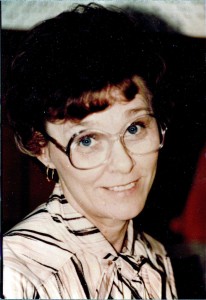 About a week before she died, Mama looked at my husband, Brad, a Masters rower, who was wearing baby-blue short pants, and said, "He sure has pretty legs." Then she shrugged her shoulders and said, with a smile, "When you're my age, you get to say what's on your mind." It had never occurred to me until that moment that she had ever once, in almost 80 years, NOT said exactly what was on her mind.
Verbal restraint was not her gift, nor is it mine, nor is it her grand-daughter Rachel's. (These nuts fall very close to the tree.) Mama's gift was a generosity of spirit way too large for her tiny frame. If she had something, and you needed it, it was yours. That applied to her possessions (as long as you didn't mind that she got most of them from the thrift store), but more importantly, it applied to her time and her home. Countless children found a bed, a warm meal, and a firm guiding hand over the years in that little house on the Trout River. And when her namesake, Aunt Elnita, was given three months to live, Mama threw open her arms and took Nene home with her to spend her last days in comfort, waited on hand and foot. In fact, Nene got so comfortable that she lived on for 15 years after that, but it didn't faze Mama at all.
Her example of cherishing family is what led me to propose moving to Jacksonville to be closer to Mama in her last months. You know you've married a good man when he gulps hard, thinks about it for two seconds, and then puts the Orlando house he's lived in for over thirty years on the market for rent, to go take care of his mother-in-law.
What an interesting mother-in-law (and mother) she was! Besides finding fashions at the afore-mentioned thrift stores that made her look like a million bucks, she loved to find old broken clocks and tinker with them until she had them ticking away again. And chiming. And cuckooing. If you ever spent any length of time in her house, you'd notice that she never worried too much about setting them all to the proper time. Consequently, her dozens of clocks buzzed, chirped, sang and chimed the hour just about every five minutes or so. What did she care? If she ever got annoyed with noise of any kind, she'd just take her hearing aids out and laugh at the rest of us, who had to cope with ears that worked well.
After Mama was widowed for the second time, and the house got a bit too quiet, she developed another hobby that I found fascinating. Suddenly, she spent her days cruising the side streets of Jacksonville in her little Honda station wagon, completely unable to pass a trash pile that had a piece of furniture on it, without stopping to execute a rescue. Three-legged tables, chairs with sprung seats, and dressers with warped drawers were all lovingly restored with parts from Walmart or Lowe's, and then – Heaven only knows why – she painted everything blue and put them out at her own curb with little hand-painted signs that read, "FREE." My phone would ring in the middle of a workday, and it would be Mama. "I covered that rocking chair seat with a piece of blue velour with little white kittens on it, and it wasn't out there twenty minutes before somebody snatched it up!" she'd crow. She'd actually watch out the front window and time it, trying to beat her own record.
Velour kittens. Ceramic kittens. Real, live, hungry and thirsty kittens. According to Mama, there was nothing, nobody, and nowhere that couldn't be improved with an infusion of kittens. There was a sign on her door that read, "This house is run for the comfort and convenience of the cats." And she wasn't joking! At her peak, our crazy cat lady owned 22 of them. When I, and other people who loved her, would gently try to suggest that 22 cats might be a bit excessive, her claws would come out. One day, she finally told me why. You see, my mother's mother, to whom she was very close, was struck by a car and killed when Mama was only 14. Suddenly, as the eldest daughter, Mama was responsible for caring for two brothers, a sister, and a father who turned very mean when he drank. And he drank most of the time. Home became a sad, scary place, except for one bright spot – the corner basket where their mother cat slept with her litter of kittens. Comfort and joy were found in that corner, and Mama could never again resist a cat who wanted to cuddle.
Last Saturday, I took her one remaining indoor cat, Baby, for a cuddle at the inpatient hospice facility where Mama spent her final six days. She'd had a steady stream of visitors, both at home and at the hospice, from among her family and friends – many of you are right here in this room, saying goodbye today, and she loved you all dearly and appreciated your kindness. But it was only after that final cuddle with Baby that she was ready to say goodbye to all of us, and join her mother, father, brother, son, aunts, cousins, two husbands, and her Savior in that place where there is no more dementia, no more leukemia, no more hearing aids, and no more weakness or pain.
I love you, Mama, and I hope they allow cats and clocks in Heaven. And if they don't, I hope they checked your pockets.