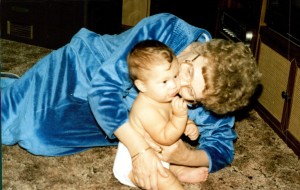 Your Scribbler has a daughter, Rachel Shannon Finch-Bates, who lives in Cincinnatti, Ohio, and has this to say about her Granny:
"I have many wonderful memories of Granny, but I'll just mention a few here. One of my favorite memories is us playing in her back yard when I was a kid. I remember it having a magical, whimsical feel about it and I loved running around and letting my imagination run wild. I would pretend I was in Never Never Land and that I was playing with faeries or battling it out with Captain Hook.
Family holidays were the best at Granny's house b/c she always made her special pink stuff. It was her shining moment when she would bring out that giant bowl of yummy goodness b/c nobody could make it quite like Granny. I remember watching Home Alone in the living room next to the Christmas tree, and it is still one of my favorite holiday movies to this day. She had the most amazing VHS collection I've ever seen.
I remember her giant white cat that took up the entire coffee table when he laid on it. I feel that one of my strongest connections with Granny is our love of animals. I am the lady who will stop traffic to let a family of ducks pass safely to the other side of the road, and I know Granny will be smiling down on me every time I do it. I remember her yelling at her dog, Scoobie, to get back in the house. This memory always makes me laugh because I know she loved him, but he was a naughty puppy.
The last day I spent with Granny is probably my favorite memory. We spent several hours together looking at old photos and she told me about our ancestors. We walked around her home looking at all the cool antiques she collected over the years, and what an amazing collection it was! I know I get my love of vintage things from her, and I will always feel her presence when I go into an antique store. I know she will be right there helping me pick out the coolest things!
Granny, please say hello to Grandpa Lundin, Grandpa Cunningham and Uncle Robbie for me. I know you are all with me every moment of every day, and I hope I make you proud.
I was not blessed with my mother's gift of words, but I wrote a short poem for all of you.
I hear you when the mother bird sings, and when she teaches her young to use their wings.
I find your presence in the strength and calm of the sea, you inspire me with the courage to be free.
In the radiant glow of the wood-burning fire, it's your resilience and passion I truly admire.
In the soft rustle of leaves under a shady tree, close to my spirit you will always be.
I love you."