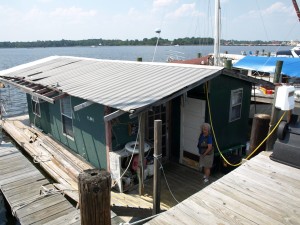 Those of you who know your Scribbler, or who've read my novel, Sewing Holes, know that it's based loosely on my childhood in Jacksonville during the Vietnam War.  On May 1st I returned "home" to Jacksonville to help care for my dying mother in our little house on Trout River (called Bass River in the book.) Mama died in mid-June, and just as I started to stick my head out the door in September to try to connect with my writing "tribe" in North Florida, hurricane Irma came along and gob-smacked one of its most-beloved institutions – Lynn Skapyak Harlin and her Shantyboat.
That's Lynn in the photo with the magical houseboat that was tied up at Seafarer's Marina on Trout River by the Main Street Bridge, until Irma's fury left nothing behind but its splintered deck. What makes this more than another sad tale of someone's leisure "toy" getting smashed by Mother Nature's fury is that Shantyboat was a place where writers gathered to learn, write, share, and improve their work. The workshops held there were Lynn's livelihood and her passion.
I know we're all shell-shocked and weary of hearing about natural disaster-induced troubles and pleas for financial help for the victims. But yes, I'm going to ask you to consider helping Lynn and Jim Harlin rebuild or replace Shantyboat so that future writers can experience the kind of help that turns first drafts into polished work for our reading pleasure.
Watch the First Coast News video about Shantyboat, and read their report below. Then help if you can, by donating at this GoFundMe page.
Thank you!
Darlyn Finch Kuhn
Here is the text from First Coast News:
JACKSONVILLE, Fla. —  An old shantyboat sat at the end of the dock at Seafarers Marina on Trout River Drive for 16 years. It had weathered strong waves, winds and dismayed looks from visitors over the years. Described as down right ugly by its owners, Shantyboat was admired by the hundreds of writers who dared to hop aboard and learn from a teacher with a sharp tongue and quick wit.
"I smoke cigarettes, I swear, I'm obnoxious," said Lynn Skapyak Harlin. "There I could be whoever I am. And if they didn't like it they could leave."
Shantyboat was a place to teach lessons learned in her lifetime, more than seven decades. It's where she held classes for aspiring writers. Harlin and her husband Jim, purchased the boat in Georgia in 1995. But with Hurricane Irma came pounding waves that ripped apart docks and sunk boats that were in some cases people homes, for Harlin it was her dream.
"That's all that's left," said Jim Harlin. He shook his head while pointing to pieces of wood barely intact. "That's the front deck. So we were afraid that it had sunk right there but several people saw it going away."
There's a large makeshift sign on display at the beginning of the broken down dock that reads: "Boat owners only. No visitors, no guests, no sightseers." The sights that remain following Irma are not appealing. There's caution tape tied from one loose post to another and beyond the warnings are battered boats, some ripped in half.
"People have lost everything and we're whining over this ratty little floating shack," said Jim Harlin. "But we love it. This boat over here that sank that was a man's home and it's gone. A lot of them have no other place to go. They have no other home than these boats that they live on and no means to really get another home."
Management at Seafarers Marina estimate the damage will total at least $250,000.
"That's mother nature, that's the whole package," said Lynn while looking out on the Trout River's calming waves. "Any boat owner will tell you it's the best and worst thing that could happen to you and your boat. So you have to take those chances."
Harlin says losing the Shantyboat was like losing a part of her body. It appears the old boat and Lynn's stern ways have touched a lot of people. One of her writers started a gofundme page for the couple just a few days ago and it has already raised more than 3,000 dollars.
In her own words, Lynn Skapyak Harlin: "It is 2:30a.m. and I can't sleep. Yesterday Keitha Nelson, ch12 news reporter & her cameraman Todd came to Seafarers Marina to talk about the loss of the Shantyboat. She asked me a lot of questions and as usual I was my flippant self. But now after replaying what she asked and what I said I really want to tell what the loss of the boat is to me. The Shantyboat Writers Workshop was a refuge where writers black, white, young, old, rich and not so rich all were equal. It was a melting pot of creative, imaginative and dedicated folks who came for one purpose to make their writing better. All I did was share craft techniques and show them how to pick out what worked and what didn't work in a piece. This was exciting. I got to watch & listen to writers become better at sharing their stories. The magic of the Shantyboat was the people who dared to trek down the dock and step into a place were they were with writers who all cared about words. All the writers' styles, stories and characters were their own and none of them sounded nor wrote alike. They all learned the tools of the trade, the craft techniques that all writers need to make readers care about their characters and turn pages to find out what happened. I loved what I did but more than that I loved where I did it. Our Shantyboat was where I was happiest being surrounded by folks who wanted to make their stories the best they could be. The boat is gone but hopefully the lessons the writers learned will live on in the stories they create."