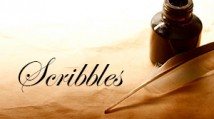 Pinch me! In a couple of months, Scribbles will celebrate its 15th anniversary. Where did the time go? One minute I was telling nine friends the details of Homer Hickam's 2002 visit to Winter with the Writers at Rollins College in Winter Park, near Orlando, and the next Brad Kuhn and I are getting to know our (new to him) hometown (to me) of Jacksonville in 2017.  Now that we're here, we want to add our North Florida friends, old and new, to the many Central Floridians who enjoy hearing about books, writers, art, music, and theater happenings. Keep the info coming, Central Florida. And let us know what's going on in this neck of the woods, Jacksonville.
Fill us in and bring us up to date on who is doing what in the Jacksonville arts scene. Having a book published? Giving a reading? An art show? Theater, music, dance? We specialize in putting butts in seats, but we can't spread the news unless you submit it to us.  Sign up for the free Scribbles e-newsletter, and share the link with your friends. We promise to never charge a fee to Scribble your event, and to never sell the list.  This is our way of giving back to our "tribe," the creatives who have enriched our lives.
If you sign up for the newsletter and send us your website, we'll post it under Notable Scribblers on our website.  If you have a resource for writers like a bookstore or workshop, etc., we'll post that, too.
Join the fun!