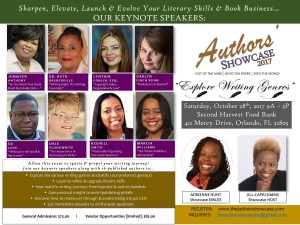 Showcase Host Jill Capri Simms wants Scribblers to know:
"Back by popular demand, the 'Authors' Showcase' will be held at the Second Harvest Food Bank of Central Florida, 411 Mercy Drive, in Orlando, Florida on Saturday, October 28, 2017 from 9:00AM – 3:00PM [doors open at 8:30AM]. This year's theme is "Explore Writing Genres". Writers of various genres as well as publishing specialists will be providing information on how aspiring and published writers and authors can upgrade their literary work and bring their writing and book dreams from concept to reality. In addition to the Showcase, consisting of a book fair and networking opportunities, 16 authors will share their journeys of transcending their literary work from concept to reality. A panel of eight (8) literary specialists will be teaching on topics ranging from the foundational principles of writing; regulations and laws behind writing; focus writing to birthing a literary work, financial planning your book business and more!"
KEYNOTE SPEAKERS:
Jennifer L. Anthony
"So You Want Your Book Read by A Book Club…"
Dr. Ruth Baskerville
"Writing Right: The Writing Essentials"
Cynthia Conlin, Esq.
"Copyright Rules, Regulations & Law"
Darlyn Finch Kuhn
"Bookstores & Beyond: Marketing in the Age of Amazon"
Ed Love
"Writing for the Small and Big Screen"
Dale Slongwhite
"The Importance of Retreating to Write"
Reshell Smith
"Financially Organizing Your Book Business"
Marcia Williams
"The Writer-Publisher Partnership"
PRESENTING AUTHORS:
Gwen Bennett
Veronica Blakely
Charles R. Butts, Jr.
Barbara Hayes
Carim Hyatt
Tinya Jones
Teatra Joseph
Krystle Lynch
Steve Lyston
Cornelia A. Meeks
Lee M. Sapp
Martha Newman
Elizabeth Paddy
Sederia Long
Genevieve Salter
Otis Windham, Jr.
"Aspiring authors who attended previous Showcase events, were ignited to take action on their literary dreams. Even publishing businesses have been launched," conference host Jill-Capri Simms explained.  "For the past two years, the Showcase has been hosted in Atlanta, Tampa, West Palm Beach and Dallas," Jill pointed out. "However, the requests to bring the Showcase back to Orlando, where we launched in 2014, have been steady. So I'm so very excited to be returning to Orlando this year.
Showcase attendees may also request and receive feedback on a sample of their literary work. There's an added benefit to attend our Showcases; participants will not walk away empty-handed! Our keynotes will be providing their valuable information…in writing!"
To attend, register on-line via the Authors' Showcase website at www.theauthorsshowcase.com or Eventbrite at https://2017authorsshowcase.eventbrite.com.
Registration is $75.00 per person and the vendor rate is $85.00. Inquiries regarding our 2017 Authors' Showcase event may be sent to theauthorsshowcase@gmail.com or call 321.230.2982.
– ### –