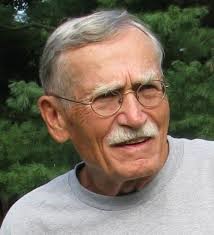 (Peter Meinke, Tampa Bay Times photo)
Elaine Person, founder/past president of FSPA Orlando Area Poets Chapter, wants you to know:
The annual Fall Convention of Florida State Poets Association will be held on October 13, 14, and 15, 2017 at the Hilton Orlando/Altamonte Springs, at 350 Northlake Blvd., Altamonte Springs, Florida 32701. The convention, titled Voices Carry, will include workshops with presenters such as FSPA State Chancellors Peter Meinke, who is Florida's State Poet Laureate, and poet Lola Haskins.
Dr. Stephen Caldwell Wright, Founder and President of the Gwendolyn Brooks Writers Association of Florida, and editor of Revelry: The Literary Voice of The Gwendolyn Brooks Writers Association will present a workshop on poet Emily Dickenson. Seminole State College teacher Webb Harris will facilitate a workshop on narrative poetry.
Other events are a panel called Strategies for Publishing with Leslie Halpern, Peter Gordon, and Gary Broughman; the latter owns CHB Media Publishing. Getting into Good Journals will be presented by Al Rocheleau. Other activities are Bob Dylan-related entertainment in honor of his Nobel Prize, and Poetry Slams. Come prepared for interaction; bring poems for open readings, in-house slams, and sharing at critique.
FSPA was founded in 1974 in Volusia County. It was not until 2013, when Elaine Person spearheaded the forming of this chapter that the Orlando Area Poets Chapter was created, and it is now the largest in the state. Orlando Area Poets Chapter hosted the 2013 State Convention and the 2016 Spring Fling. Chapter meetings are held the third Thursday of each month at the Maitland Public Library at 6:30 p.m. and are free.
This FSPA convention is open to the public. See floridastatepoetsassociation.org for more information.
Registration begins at 3 p.m. on Friday, October 13. The convention concludes at 11:30 on Sunday morning, October 15. Prices are $25 FSPA for a member and $35 for a guest. Mail your check by September 15, 2017 to: Mary Marcelle, 107 Magnolia Drive Altamonte Springs, FL 32714.
If you have questions call Mary at 407-832-8603. To reserve a room at the Hilton, call 407-830-1985.