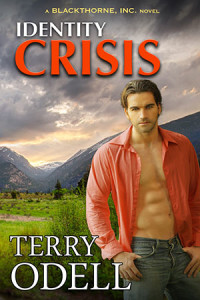 Scribbler Terry Odell is thrilled to announce the release of Identity Crisis, book 7 in her Blackthorne, Inc. covert ops romantic suspense series.
Not following orders might cost him his dream job, but it could save her life.
Brett Cashman yearns to be a Blackthorne covert operative. He has the skills, but as the only recruit with no military background, he's having trouble adjusting to the whole taking-orders gig. Can he follow the rules, or will his attraction to the woman he's sent to protect destroy his chances?
Publishers Weekly/Book Life Prize calls it "A successful thriller: high-stakes shenanigans, suspense, mystery, danger, a kidnapping, and the heroism of a solitary savior. … exciting and a very fun read."
Terry is donating a portion of all October royalties to the National Multiple Sclerosis Society in honor of her daughter.
And, she's priced When Danger Calls, book 1 in the Blackthorne, Inc. series at FREE. Start at the beginning at no cost to you.