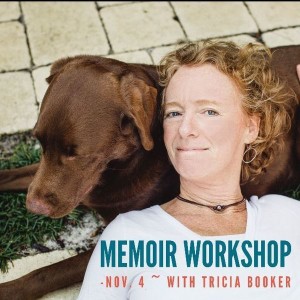 Women Writing for (a) Change says:
How do you write a memoir? We've asked local author Tricia Booker to tell us how she did it. Tricia will read selections from her new book, The place of Peace and Crickets: How adoption, heartache, and love built a family. She'll also share tips and techniques that have helped her along the way, and we'll apply these ideas to some of our own stories.
Refreshments and book-signing will follow. Enjoy artwork by our two featured local artists, Joyce Gabiou and Jennifer Bothast while we mingle.
This workshop is free for participants who have signed up for our Fall Mini-Series on Memoir (register now on Meetup while we still have spots available!).  Otherwise, the fee is $45. Please reserve your spot ahead of time as seating will be limited.
Tricia's book is tender and candid and the writing is whip-smart. Check out her blog at TriciaBooker.com. 
1 p.m. Saturday, November 4th at 1610 Osceola St., Jacksonville, FL (map)