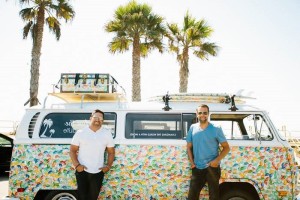 Oola is coming to Jacksonville! The Oola guys, authors and entrepreneurs, Troy Amdahl and Dave Braun are rolling into town in their '70's VW Surfbus with the aim of collecting 1 million dreams across the country. They're at Barnes & Noble – St. Johns Town Center at 8:30 p.m. signing their newest book, OOLA: Find Balance in an Unbalanced World and collecting people dreams – even yours.
Want to know what Oola is? Watch the video.
Here's what they want you to know:
What started out in 1997 as a small group of buddies meeting once a year at the Hard Rock in Vegas to set goals for the future has now become Oola, a nationwide phenomenon and a dynamic movement.
What is Oola? Its origins come from the expression 'oh-la la!' and is a "state of awesomeness."
Co-authors Troy Amdahl (OolaGuru) and Dave Braun (OolaSeeker), renowned experts in a proper work-life balance, have been traveling the highways and cities of America in their 1970 VW surf bus covered with colorful Oola stickers placed there by people who are putting their dreams into action and ready to live the OolaLife. It's a powerful, yet simple message that has captured almost one million Oola fans on social media.
Their new book, OOLA FIND BALANCE IN AN UNBALANCED WORLD: The Seven Areas you need to BALANCE and GROW to Live the LIFE OF YOUR DREAMS (HCI; October 17, 2017) has received glowing reviews from top authors, pro athletes, musicians, industry leaders, and Olympians.
Oola is not your typical self-help book. It's when your life is balanced and growing in the 7 key areas of life – Fitness, Finance, Family, Field (career), Faith, Friends, and Fun.
Oola is a collection of kick-ass anecdotes and sincere stories that just happen to have meaningful messages.
Here are 7 important reasons to read this book?
1. Learn the three simple steps to balance and grow your life in an unbalanced world.
Uncover what blocks you from the life of your dreams and what can get you there faster.
Find out what you can learn from a drunken Thai monkey, a black Ninja, and zebra-striped underwear.
Why no matter what you have done or have failed to do, you deserve a better life.
Become inspired to take the steps, reach your milestones, and achieve your OolaLife.
Discover the 7 key areas of life you must balance and grow.
Unlock the secrets to taking your life to the next level.
Troy Amdahl (Phoenix, Arizona) is a native of Rochester, Minnesota and co-author with Dave Braun of the international bestselling book Oola: Find Balance in an Unbalanced World. The OolaGuru graduated cum laude from Northwestern Health Sciences University, then became a devoted husband and father, and a successful businessman who traveled the world, retired debt-free at 42, and was an Ironman triathlete. Once a year, he and a group of friends―including Dave, the OolaSeeker who sought him out as a mentor―would meet to set goals and find balance and growth in the key areas of life―the synthesis of which became the philosophy and movement that is Oola.
Dave Braun (Salt Lake City, Utah) is a native of Napoleon, North Dakota and co-author with Troy Amdahl of the international bestselling book Oola: Find Balance in an Unbalanced World. Dave found material success at a young age while under the mentorship of Troy who taught him how to live the Oola principles of balance, but eventually drifted from them and found himself bankrupt, divorced, disconnected, and living in a motel. At rock bottom, he sought out Troy, the OolaGuru, knowing he needed help to get his Oola back. The OolaSeeker vowed that if this worked, he would share Oola with the world. It did, and today, he and Troy travel the country in a 1970 VW surf bus, speaking to groups, collecting dreams, and helping people find balance, purpose, and growth through the 7 F's of Oola.