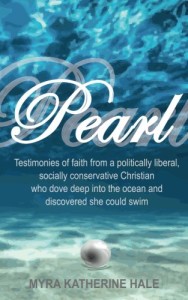 About PEARL:
A Jesus-loving, politically liberal, socially conservative wife and mother of two (plus a few) hears a surprising message from God and embarks on a broken and beautiful journey of obedience, humility and eventual empowerment that will have you laughing, crying, and cheering her on.
Launch Day is Tuesday, October 24th. Buy it in paperback. Buy it on Kindle.
About the Author:
Myra Katherine Hale's train-wreck of a marriage has not dampened her ability to laugh at the beautiful mess that is her life. In her blog, "Raising Magnolias," she shares her self-deprecating wit and unsolicited wisdom. A mother, step-mother, ex-wife, third and final wife, and "Mimi", she owns a personal training studio in Fremont, Nebraska where she accidentally landed on her way back home to Southwest Arkansas. Away from work, this baseball mom, this dance mom, this very, very tired mom, polices four-way stops, shoots nerf-guns in the carpool lane, and tries to remember to cook supper. Now, for the first time, a former Miss Nebraska shares her in-depth story of heartbreak and hope in this engaging memoir.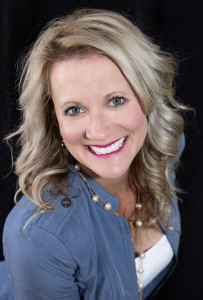 (Photo by Becky Novacek)
What readers are saying about PEARL:
"Read Pearl with pen in hand to underline, circle and star. Myra Katherine's effervescence and authenticity in Pearl is full of enlightening gems you'll want to resurrect as soon as you turn the next page."
~ Courtney Hudson Goodson, Associate Justice, Arkansas Supreme Court
"Myra Katherine's gift lies in seeing her deeply rooted faith, secure and unwavering even amidst some of life's most adverse seasons, all the while inspiring faith in others. She has a contagious zest for life that is no doubt fueled by her hysterical quick wit and skill in finding humor in all things. Someone who has tasted and seen deep sadness, but exudes the 'deeper still' Godly joy – a living testimony to His goodness."
~ Rachel Scott, mother, musician, worship leader
"Myra Katherine's greatest gift to her readers is her honesty. With humor and humility, she shares the stories of her perfectly imperfect life, the heartaches, the frustrations, and the triumphs. So many women experience similar fears and doubts; Myra Katherine gives our struggles a voice and makes us realize we're not alone. Pearl is a true treasure, a collection of her lessons, her revelations, her resilience, and, above all, her faith.
~ Suzy Morgan, English teaching, word loving, single mother of three
Myra Katherine's writing is honest, real, hilarious, and hopeful. Pearl is a book that will encourage readers to keep fighting for the relationships that are closest to them.
~ Brian Stroh, Executive Pastor, Hillcrest Church
God has not promised us a perfect life in this world, but He does promise to hold us in the storm. May Myra Katherine's words hold you tight as they point us back to Him.
~ Tarina Stroh, early childhood expert and Children's Education Director at Hillcrest Church
"This is a Christian woman's account of her divorce in a culture that doesn't always welcome divorced Christian women. Myra Katherine understands that we are not offered 'do-overs,' only 'do-betters,' and her experience of recognition that 'we mistakenly believe we must be whole before loving another' is a reminder that we are each broken in our own way. She reminds the reader of the importance of humility and giving thanks while she writes to better understand God's plan for her life."
~ Melinda Coulter Taggart, Senior Network Process Quality Manager, AT&T
"Dive into this story when you have plenty of time to swim around in it, because you won't want to come up for air until you've harvested all its pearls."
~ Darlyn Finch Kuhn, author of Red Wax Rose, Three Houses, and Sewing Holes