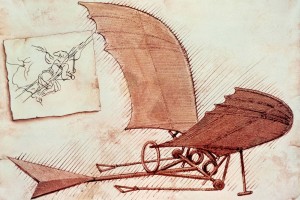 FLYING MACHINE DEBUTS AT TIMACUA ARTS FOUNDATION CONCERT, SUNDAY, FEBRUARY 11 AT 7:30 PM
Flying Machine, a collaboration of Orlando composer Benoit Glazer
and Orlando poet Al Rocheleau, reflects on excerpts and drawings of Leonardo da Vinci's notebooks.
Glazer, conductor of Cirque du Soleil's La Nouba, has created sixteen short movements (performed by the Alterity Woodwind Quintet) responding to Rocheleau's suite of sixteen poems.
The suite explores DaVinci's inimitable vision, philosophy, art, and inventions across time and space. The concert, organized by the Timacua Arts Foundation, the Central Florida Composers Forum, and the Alterity Chamber Orchestra will take place at:
The Timacua "White House"
2000 S. Summerlin Avenue, Orlando 32806
on:
Sunday, February 11, 2018
7:30 PM to 9:30 PM.
Donations accepted.
For more info:
https://timucua.com/event/flying-machine-a-new-work-by-benoit-glazer/