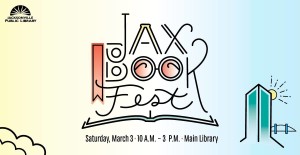 The second annual Jax Book Fest will be held on Saturday, March 3rd from 10 a.m. to 3 p.m. at the Jacksonville Public Library, 303 N. Laura Street, Jacksonville, FL 32202.
Meet and mingle with local and best-selling authors, purchase books, attend workshops and talks on your favorite genres, and more.
There will be events for book lovers, writers, educators, and children.  Free and open to the public;  no registration or ticket required.
Your Scribbler will be holding her breath (and turning a lovely shade of ocean blue) until the JPL Local Author Collection is unveiled at Book Fest. Will Sewing Holes make the cut? Sure hope so, because I'm waiting to exhale!