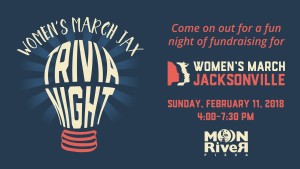 Turns out women's contributions to culture are not so trivial after all! Come on out for a fabulous fun night of frivolity and fundraising for Women's March Jax. This is our big fundraiser this year and we'd love to have you there!
At this fun evening, emceeded by Angela Spears, we'll have teams assembled in groups of 2-8 people. Register with a friend for a discount, and get your team lined up today!
Moon River Pizza is our sponsor for this event and they've graciously given us special deals on the food, drinks and venue for this event. Let's support them and support outselves and our work in the community in the process! It's a win-win-win.
Great prizes; and plenty of opportunity to tell your local vendors about this event and ask them to donate goods or services. We'd love to have their support.
Details:
Date: Sunday, Feb. 11
Time: 4-7:30 p.m.
Cost $25 per person
Teams: 2-8 people
Moon River Pizza, 1176 Edgewood Ave. S., Jacksonville, FL 32205
Darlyn Finch Kuhn and Brad Kuhn (aka Snowflake, the Pussy Who Grabs Back) have donated a copy of The Big(ly) Beautiful Book of What Women Want to be raffled off to benefit Women's March Jax.
Perfect for Valentine's Day gag gift giving. (And we mean that literally.)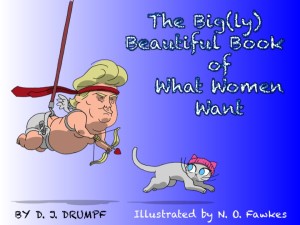 Don't worry if you're not the lucky winner; you can order your copy from Amazon.com .  One half of the proceeds of copies sold during the month of February 2018 will go to help support Women's March Jax.