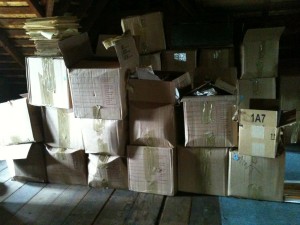 Boxes
They are dusty, endless.
Cranky and tired, I implore my husband to stop
handing down boxes from Mama's attic,
to stop insisting we clear it all out today,
to stop, to please, for the love of all that's holy, just
STOP.
He knows me; he loves me; he can see I'm over this
incessant sorting, these perpetual decisions;
to keep, toss, sell, or deliver to people she loved
the items she tenderly wrapped and kept and labeled; things
they almost invariably decline, with sad, ungrateful smiles.
He stacks the boxes in the garage and tiptoes out,
leaving me, in silent fury,
to fume as sole survivor, the responsible one
who always, always has to handle
things no one else will handle.
Interminable, these rubber-band-bound bundles of bills
paid decades ago, these monotonous bank statements sadly lacking in zeroes, this
amaranthine documentation of fourscore years of thrift store accumulation and then
I open a box and there they lie,
gone, but not forgotten, for forty years.
I had forgotten the stripes; I knew they were sky blue
and I'd remembered the elegant piping.
And the blood; I remember the blood, so much blood,
blood that, when washed, resembled nothing worse than a splash of spilled coffee.
A whole pot of spilled coffee.
I lift Daddy's pajamas from the box.
They smell of attic-dust and time, nothing more.
As she had done, so long ago, I hug them to my chest,
wrap their ghostly arms around myself, and rock, keening in silence.
Holding her. Holding him.