Red Wax Rose
About the Book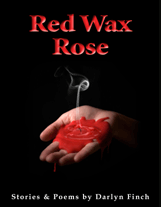 "By turns sexy, poignant, heart-breaking, and triumphant, Darlyn Finch's words fly off the page and rain down on us, drenching us in the sweet, fresh waters of a woman learning what it is to, finally, finally, come alive. Read this book; relish it: Darlyn Finch is a wise and wonderful writer." 
—Connie May Fowler, Author of Before Women had Wings and The Problem with Murmur Lee
"Darlyn has a candid, clear, direct free verse writing style that communicates easily to audiences about a woman's roles as daughter, wife, lover, and mother. With humor and forthright opinions, she creates a voice that declares, questions, wonders, and remembers, using metaphor and telling detail to evoke narrative situations."  —Molly Peacock, Poet, former President, Poetry Society of America, founder of Poetry in Motion
"The poems are dark, then funny, then dark and funny, but in the end the dark wins. They probe our tormented world with fresh eyes and the voice of a story teller who seems to have just arrived from her Florida past."
—Philip F. Deaver, Author of Silent Retreats and How Men Pray
"Darlyn Finch sees the world through kaleidoscope glasses, seamlessly blending fragments of life, each turn of the page revealing another mosaic to be treasured."
—Ed Masessa, Author of The Wandmaker's Guidebook
Listen to Garrison Keillor read from Red Wax Rose

Buy your copy of Red Wax Rose
Stories & Poems by Darlyn Finch

Reviews
The Comstock Review
Review by Peggy Miller, Senior Editor:
"Here is a delightful find, an appealing combination of simple, dark and wise…
These works are open-eyed to life's tenderness and sadness—and the intersection of tenderness and sadness, which is the source of power in Finch's writing.
A native Floridian, Finch was the recent writer in residence at Kerouac House in Orlando. Many Americans these days relocate often, but Finch lives in the midst of her history. In the poem "Hometown" she writes, "There are ghosts in the sanctuary,/ and our hometown is a place/ where we visit family/ alone/ on opposite ends of town." Read more…
Leslie Halpern in the online magazine Suite101:
"This entertaining collection may prove especially inspiring for Southern women, although it includes slices-of-life to which we can all relate." Read more…
About The Publisher
Shady Lane Press, based in Orlando,  Florida is an independent, for-profit publisher of poetry, short stories, essays, memoir and creative non-fiction. Inspired by the work and legacy of Jack Kerouac, the publisher's goal is to discover and promote new and emerging voices.
See Darlyn Finch interviewed at the Kerouac house by Bob Kealing.
Hear her Kerouac House reading  from Red Wax Rose here.