Three Houses
About the Book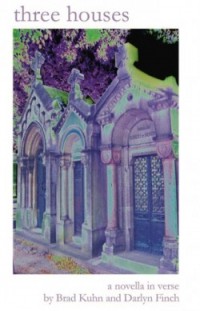 A poet and a writer, suddenly single under similar circumstances, meet at the house where Jack Kerouac toiled in obscurity before On The Road changed his life. Like the famous writer before them, their lives are transformed by this little house. It's an age old story, told afresh in this collaboration by poet Darlyn Finch and journalist Brad Kuhn, whose chance meeting looses a torrent of passion and poetry.
Three Houses is a narrative in verse documenting the ecstasies, agonies and everydays of a phoenix rising from the ashes of their troubled pasts. These are words spoken (and sometimes yelled) heart to heart. Scribbles is proud to publish this collection for friends old and new, for those who believe in love, and for anyone like us, and Jack back in the day, standing at a crossroads wondering: "Is this all there is?"
Buy your copy of Three Houses
by Brad Kuhn and Darlyn Finch


A Note from the Authors
Five minutes made all the difference. A couple of red lights, or a train, and we would have missed each other. But the world conspired to do us good and nothing since has been the same. To paraphrase a line from one of our poems: "We didn't ask for this; we wouldn't have known how."
That chance meeting, at an intimate gathering in the house of a famous writer, begat late-night talk at the house of a famous architect, and opened the door to a third house being fashioned, even today, from our laughter and tears— a house held together, not by nails, but by love.
This isn't a fairy tale. As some of these poems will show, we fight with a surgical precision that other writers are sure to appreciate. It's just the story of two people who meet at a crossroads and set out together in search of a better life, courting and fighting the best way we know: with words.
The poems in this collection were not written for public consumption, but as we reviewed them, a narrative arc emerged that seemed to strike a universal chord. We offer them up to you as a novella in verse, hoping that you will find something pure, honest and clean in our sometimes startling candor.
Namaste, Brad & Darlyn
December 25, 2007
About the Authors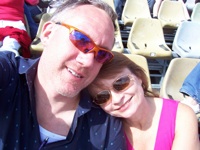 Darlyn Finch was the Winter 2006/2007 writer-in-residence at Kerouac House in Orlando,  Florida. Her first collection of poetry and short stories, Red Wax Rose, was published in February 2007 by Shady Lane Press. Her poems have been featured on Poetic Logic on WMFE-FM and read by Garrison Keillor on The Writer's Almanac.
Brad Kuhn is the winner of the 2006 Thomas Burnett Swann Poetry Prize. A professional speech writer and former journalist, he was a staff writer for The Orlando Sentinel and The Wall Street Journal. He is a co-author of I Hate My Banker, a work of nonfiction published in 1997.
Brad and Darlyn married on July 2, 2011.